Description
OPEN EGG CUTOUT KIT with 2 Tube Corners. (module sold separate)
This is a cutout kit with connectors and 2 welded tube corners to create an open egg cutout in a 4 or 5 ft straight module.
Includes:
2 tube corners
9ea 35" studs
4ea 23" studs
4ea Return Tracks 30.25"
3ea Platform Tracks 28.5"
7ea Horizontal Connectors
2ea Vertical Connectors
1ea 32" track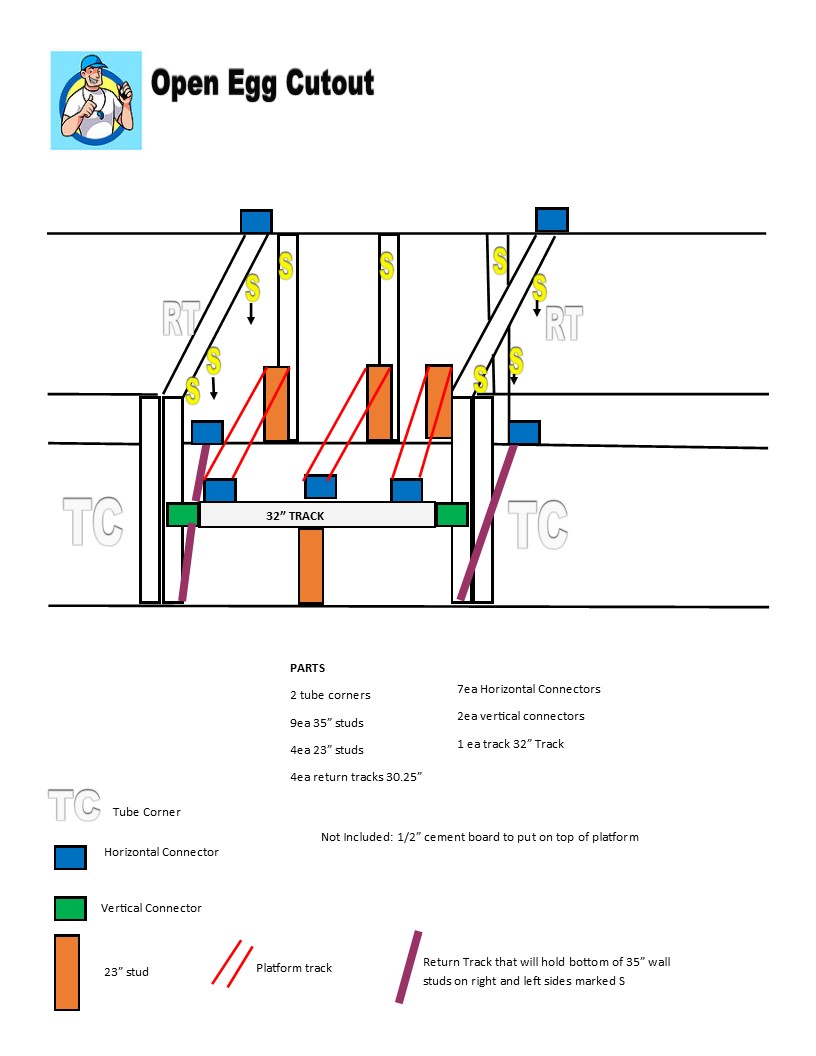 View All
Close
Custom Product Tab
| | |
| --- | --- |
| Quisque Rutrumos | Pellentesque habitant morbi tristique senectus et malesuada fames |
| Dehoncus | Faucibus orci luctus et ultrices |
| Destibulum Metus | Quisque rutrum rhoncus risus eget faucibus |
| Blandit Neques | Nam volutpat velit vitae felis pharetra ut destibulum |
Suspendisse tempor accumsan consectetur. Praesent sed adipiscing urna. Ut dignissim sodales mauris eget elementum. Sed at eros ipsum. Suspendisse lacinia, metus in sodales sodales, massa nisi congue neque, vel dictum magna orci commodo turpis. Cras sit amet blandit nulla. Quisque sollicitudin, felis ac pretium euismod loremous ligula condimentum sem, eget rutrum nulla urna in dui. Duis ornare mattis tortor nec mattis diam ultrices non.
Sed ullamcorper placerat turpis at dapibus. Nulla ut mi sed turpis semper molestie. Aenean a felis id augue convallis feugiat. Suspendisse a eros tempor, tincidunt massa a, mollis eros. Curabitur nisl dui, volutpat ac magna id, scelerisque ultricies purus. Donec in metus sit amet risus feugiat lacinia non quis ante. Integer in euismod urna. Donec imperdiet posuere leo, a porttitor nulla ullamcorper non.
View All
Close
2 Reviews
Installed this in an 8' module. I wanted to have an opening underneath it for storage and used a door kit for that. It all came together nicely and was easy even for someone like me with limited framing experience. Now that I've done one, I could do another in 1/4 of the time.

Also, I saw someone complaining in a YouTube video about holes not being pre-drilled in the framing materials. I found the self-tapping screws I bought from BBQ Coach to be amazing. They don't drift and make it through the material faster than a drill bit.

All in all this is a great product and no, it doesn't come with step by step directions. That what makes it challenging, fun and rewarding.

I used the BBQ Coach system and it is a great product! I used the open egg kit and it worked well. It seemed easier than the diagonal corner module for my xl green egg to place into position. Also I was tight on space otherwise I probably would have used the diagonal corner module for it. I give 5 stars for the product but they do not always answer the phone so I rate them at 4 stars. Email support thru your account is best when you need help. My neighbor was also impressed with the product.
View All
Close